Fall Quarter 2023 ESDC weekly training calendar:
Trainings are postponed from 12/11-1/15 for winter break, but open lab is available 9am-12pm & 1pm-5pm.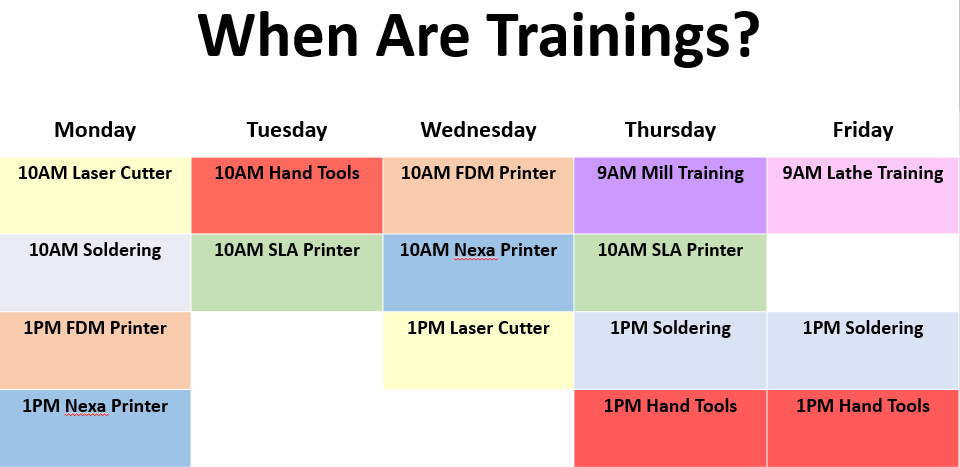 ** This schedule is subject to change
The Student Machine Shop Golden Rules
Safety glasses must be worn AT ALL TIMES in all areas of the ESDC. No exceptions.
Only closed-toed shoes which cover the entire foot may be worn. No sandals, flip-flops, or ballet flats.

Long pants are required. No exposed ankles. Please avoid jeggings/leggings or pajama-like material. Jeans or denim are preferred.

Long hair must be tied up. Long sleeves must be rolled up.
No loose clothing. No dangling jewelry. No dangling hoodie strings. No watches. Please remove them or tie them up.
Who is training available to?
Trainings and use of ESDC facilities is currently open to all graduate and undergraduate students within the College of Engineering and registered COE student teams. 
Training is free of charge for all undergraduate users. 
Graduate students using ESDC facilities are required to pay a fee if working on research projects.
The use of ESDC facilities is not yet open to staff and faculty or anyone outside of the College of Engineering. If you any questions about access to ESDC facilities, please email us at esdc@ucdavis.edu